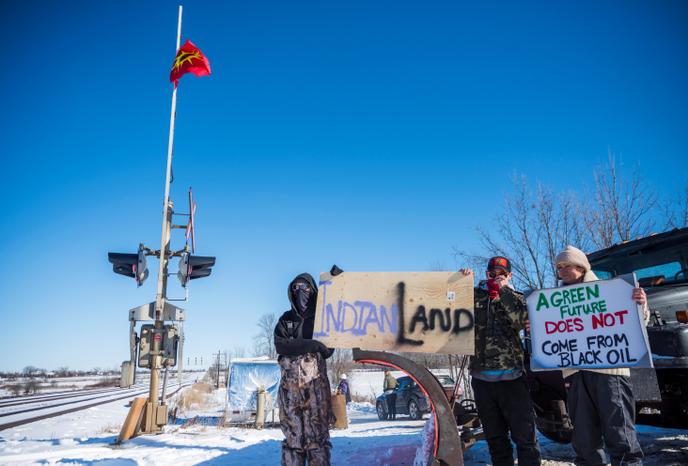 The dispute over a gas pipeline project that crosses the territory of the Aboriginal community of Wet'suwet'en, located in British Columbia, threatens to paralyze part of Canada's economic activity. This Coastal GasLink pipeline is to link northern British Columbia to the LNG Canada consortium's coastal terminal, located in Kitimat on a stretch of sea providing access to the Pacific Ocean.
Article reserved for our subscribers

Read also
John Ralston Saul: "Listening to Canada's Native People and Mending History"
Since Thursday, February 6, opponents have multiplied demonstrations and blocking actions across the country in support of this community opposed to the passage of the pipeline on its territory. Rail lines are blocked at several points on the national network, in British Columbia and, to the east, in Ontario or Quebec.
Job promises
A hundred kilometers from Montreal, a handful of demonstrators have been preventing train traffic since Monday February 10. Passenger transportation is interrupted between Toronto, Montreal and Ottawa and hundreds of freight trains are stopped. Traffic to the United States is also stopped. On Monday, the CEO of Canadian National Railway Company warned of the repercussions of such an obstacle. "It's the entire supply chain that is affected," he was concerned, pointing to a likely short-term shortage of everyday consumer goods or resources, such as propane, necessary for the smooth running of businesses.
Article reserved for our subscribers

Read also
Oil pipelines, the final battle of the Amerindians
This Coastal GasLink project, launched in 2012 at a total cost of 6.6 billion Canadian dollars (4.6 billion euros), should allow, by 2025, to export to the Asian market nearly 700 000 liters of liquefied gas per day. The 670 km-long pipeline route has received the approval of elected chiefs of indigenous communities, in return for benefits and promises of employment for indigenous people. But the so-called "hereditary" chiefs of the Wet'Suwent' nation did not approve the project. However, they consider themselves only competent in their traditional territory.
These dissensions within a community raise the question of the legitimacy of their decision-making bodies, but also complicate the dialogue with the political authorities and the company. However, on December 31, the British Columbia Supreme Court issued an injunction prohibiting opponents from obstructing access to construction sites. A decision which the Royal Canadian Mounted Police relied on to make arrests last weekend in the territory of the Wet'Swu'et who set fire to the powder.